Andrew D'Agostini Ready for First Full Professional Season
BRAMPTON, ONTARIO – The Brampton Beast, ECHL affiliate of the St. John's IceCaps and Montreal Canadiens, have announced that former OHL Humanitarian of the Year and 2014-15 CIS All-Tournament Team goaltender Andrew D'Agostini has signed a contract to join the Beast for the upcoming 2016-17 ECHL season.
D'Agostini was a five-year player for the Petes, suiting up in the Electric City from 2009 to 2014.
D'Agostini, 22, joins the Beast for his first full season of professional hockey following a fantastic junior and university career. Beast fans may remember D'Agostini from his impressive two-game stint with the club at the end of the 2015-16 ECHL season.
Eleven different goaltenders manned the Beast crease during the 2015-16 ECHL season, but none made quite the same impact that D'Agostini did in just two games played.
The Scarborough, Ontario native was almost perfect in his first two games as a member of the Beast last April. He allowed just one goal per start and stopped 57 of the 59 shots he faced in collecting two wins against tough opponents, including the Adirondack Thunder and Elmira Jackals.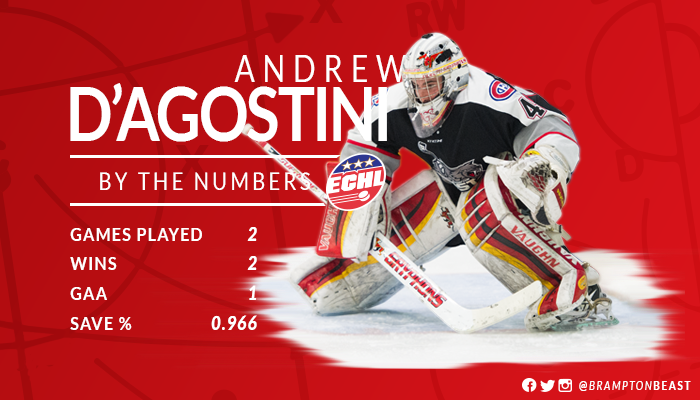 D'Agostini's 1.00 goals against average and sizzling .966 save percentage were far and away the most impressive goaltending statistics from the 2015-16 season and helped him emerge from the pack and earn a full contract for the 2016-17 ECHL season.
Prior to joining the Beast last season, D'Agostini enjoyed two full seasons at the University of Guelph, where he emerged as one of the best goaltenders in the Canadian university system.
In his first season with the Gryphons in 2014-15, he appeared in a total of 31 games (regular season and playoffs) and posted a 18-11 record and helped his squad to capture a CIS bronze medal while being named the tournament's top goaltender.
For the full article, visit the Brampton Beast online.